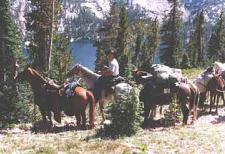 HIKING WITH PACK STOCK
Hike for 5 days through the Sawtooth Wilderness on some of its 300 miles of trails. Camps are near high mountain lakes where you can enjoy the evening fishing, experience great scenery and hearty western meals.
Cost: $1,443 per person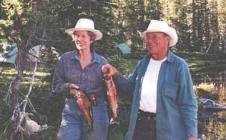 PREMIER FLY-FISHING HORSE PACK TRIPS
Spend 5 days on the world famous Salmon River in the Frank Church Wilderness, fishing for Cutthroat, Rainbow Trout and other native species. Ride gentle mountain horses who will take you and your guides to a campsite close to the river. Early morning and late evening fishing is readily available. Beautiful country, great food, a breathtaking river and an outstanding fishing experience make this trip a memory maker.
Cost: $1,710 per person.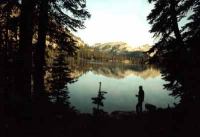 EDNA LAKE PACK TRIP
This 5 day Pack trip shows our guests the best of the Sawtooth Wilderness. Your first day's ride takes you through a glaciated canyon past five gem-blue lakes, over Sand Mountain Pass (elevation 9200 ft.) and into the headwaters of the Payette River. Here at our base camp, you will enjoy hearty western meals and views of lakes and mountains, combined in a peaceful setting. The next three days can be spent relaxing, riding to other lakes, reading, climbing mountainpeaks, fishing, chasing after mountain goats, photographing wildflowers and mountain peaks, or taking a cool dip in the lake. Our last day returns you to the trailhead via Sand Mountain Pass and Toxaway Lake.
Cost: $1,552 per person.
All Packages Include: Transportation to and from Boise or Sun Valley/Hailey Airports; lodging for 1 night before, during and 1 night after pack trip; sleeping bag, pad and food while on packtrip; all camping equipment and taxes. Price does not include meals before or after packtrip, fishing equipment rental, fishing license or gratuities.